Microsoft Dynamics CRM 2013 offers by default a "What's New" landing page known as the Personal Wall.  The "what's new" page is a great place to start and is part of the social add-ins Microsoft introduced with CRM 2011.
Although the Personal Wall is great, I often like to start users on a custom dashboard:
A dashboard customized around the users day-to-day needs allows for users to quickly see and get to pertinent information.  In my case, my team mainly focuses on the companies, projects and tasks assigned to us individually.
To setup a dashboard as the default page, as well as the "home" button, you have a few options.
Option 1: User Specific
The first option is easy, but specific to each user.  When logged in, click Settings > Options and then choose the Default Pane and Default Tab you'd like to begin with.  If you choose Dashboards, then your default dashboard will be shown.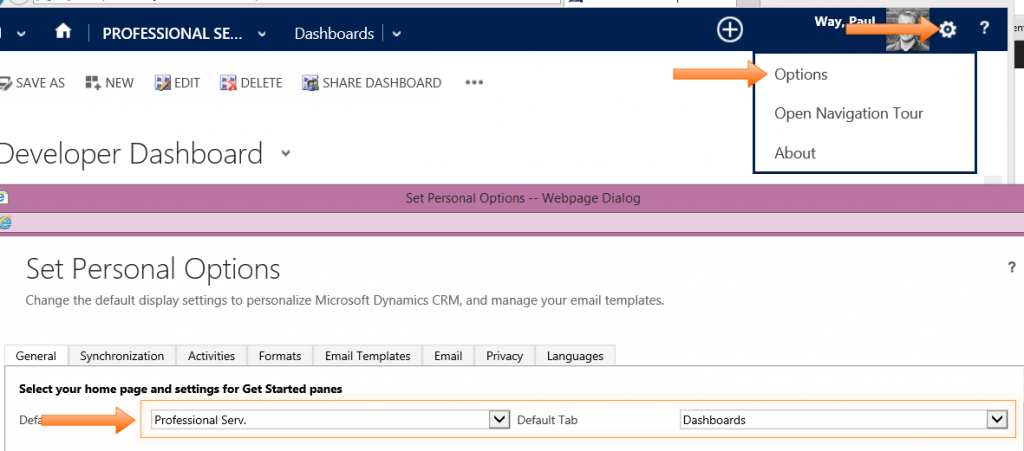 Option 2: System Default
Instead of having each of your users change their default page individually, you can alternatively modify the sitemap to start on dashboards (or any other entity of your choosing).  It is important to know that users can override the system default page by following the steps in option 1 above.
Let's walk through setting our dashboard as our home page with CRM 2013.  The first step is to export the sitemap and move the "nav_dashboards" SubArea above the "nav_personalwall" SubArea: 
You'll want to zip up your customizations and import your solution.
After publishing, browse to your dashboard listing (Settings > Customize this System > Dashboards).  From there, you'll want to select the desired dashboard and click "Set As Default".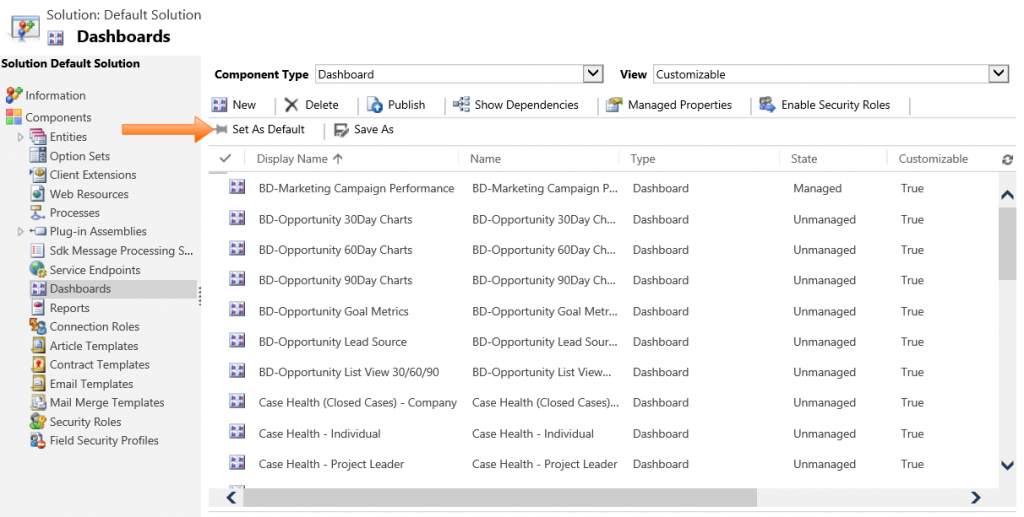 Now at this point users should see your new default dashboard.
If users have overridden the system settings, they will need to change their "Default Pane" to "<Default based on user role>" for Option 2 to work.
Summary
Today we looked at having users starting on a page other than the "what's new" landing (aka CRM 2013 Personal Wall).  We altered the home page to a dashboard.  We could default to any entity as long as it's first in the sitemap.  One thing to watch out for is that users can set their own home page.
Hopefully this was something you can use in the future.  If you liked this post, please share some thoughts in the comments below.  Thanks and I hope you enjoy!