I often find users are looking for ways to alleviate the email overload.  Sometimes important emails are missed due to a hectic day.  In some situations a remedy I like to incorporate is the ability to text message a user for events or status changes the user really cares about.  Leveraging Microsoft CRM and cell phone carriers' email feature, we can offer users the ability to receive critical alerts via text messaging in addition to normal email.
Emailing a Text Message
What's great about this is that you don't need to install a special add-on to send text message alerts from CRM.  What you will need is the recipients cell phone number and carrier.  Each carrier has a specific text message domain, here's a list of the most common carriers (full list here):
| | |
| --- | --- |
| Carrier | Domain |
| AT&T | @txt.att.net |
| Sprint | @messaging.sprintpcs.com |
| T-mobile | @tmomail.net |
| Verizon | @vtext.com |
All of the carriers use the format of phone number followed by the domain.  For example to send a text message to a Verizon user, you'd email them 8645551234@vtext.com.
When you send text message alerts from CRM you'll have the subject in parenthesis (if populated) and the body will be shown right after.  Here's an example: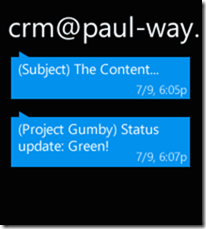 Text messages are limited to 160 characters, which includes the subject and body.  If you are wanting to link to CRM records in addition to providing information about the update, I'd recommend using a URL shortener since CRM URLs can get rather lengthy.
Configuring CRM
CRM already contains a "Mobile Alert Email" field and I suggest leveraging this field for storing the user's SMS address.  In order to send an email to this field though, you will need to enable sending messages to unresolved email recipients.  You can do this by going to Settings > Administration > System Settings, clicking the "Email" tab and then finding the "Allow messages with unresolved email recipients to be sent", pictured below:

Text Message Etiquette
My preference is for users to opt into text messaging.  Whether users click a ribbon button or if you create a custom reminder feature within CRM, I think text messaging should really be controlled by the user.  I consider text messages to be useful for critical alerts or monitored events.  Similar to spamming someone with email, too many text messages can become frustrating quickly.
With that said, text messages could be a fantastic enhancement your users are looking for.  Maybe you offer text messaging when goals and/or targets are reached.  Maybe you introduce a menu option which allows users to monitor a deal and the user can choose to be informed by either a text message or an email.  Regardless of your situation, if your business team decides text messaging would be a useful tool, CRM offers this capability.
I hope this helps!